Anionic Polyacrylamide
>
>
>
Anionic Polyacrylamide
Anionic Polyacrylamide
Brand :Diluo
Product origin :Henan province ,China
Delivery time :about 10 work days after receiving T/T or L/C at sight
Supply capacity :200,000 tons per year
We are manufacturer of Anionic Polyacrylamide for 20 years . Welcome to our factory visit Polyacrylamide production .Please contact us freely to get technical help and factory price ,Lower 15% than the market.
china Anionic Polyacrylamide, polyacrylamide production price, polyacrylamide uses Suppliers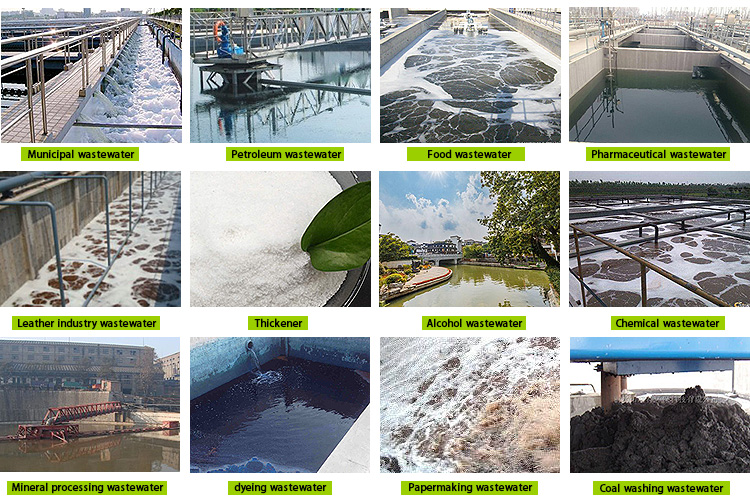 【Anionic Polyacrylamide】

Anionic polyacrylamide, copolymerized by acrylamide and acrylate monomer, is a water-soluble
synthetic polymer, which has the properties of flocculation, thickening, shear, resistance reducing
and dispersion, etc.. The active groups in molecular can be adsorbed at the interface to change
the interface state. It can form hydrogen bonds with a number of substances after affinity and
adsorption which enable it to bridge between the adsorbed particles. So that several or even
dozens of particles link into large floc to accelerate the particles settlement in suspension, speed
up the solution clarification and promote filtering.


【Technical Data】

Type

Molecular weight
106

Degree of
hydrolysis
%

Solubility
h

Solid
content
%

Valid
PH

Residue
monomer %

Appearance

PAM-DFH-1

18-21

20-30

<1

≥88

1-14

=0.05

White dry powder

PAM-DFH-2

15-17

20-30

<1

≥88

1-14

=0.05

White dry powder

PAM-DFH-3

10-14

20-30

<1

≥88

1-14

=0.05

White dry powder

PAM-DFH-4

7-9

20-30

<1

≥88

1-14

=0.05

White dry powder

PAM-DFH-5

5-7

20-30

<1

≥88

1-14

=0.05

White dry powder
【Usage】
1. In The Treatment Of Industrial Waste WaterWidely used in the treatment of the sewage with
suspended grains, high concentration, postive charges and mid or sidali PH value, the waste
water from a iron and steel plant, an electroplating factory and a coal washing works, and
metallurgical waste water.
2. In The Treatment Of Drinking WaterGenerally the DFH-H-3's molecular weight is appropriate.
For many drinding-water factories, their water sources are from rivers, and have high mud and
mineral content and high turbidity degree. Though it is passed through the sediment and
filtration processes, it isn't still in conformity with the requirements, and must be added with
some flocculants. In the past, the inorganic flocculants were generally used and with a large adding
quantity, resulting in raising the secondary mud quantity. Now the DFH-H-3 is used as flocculant,
its adding quantity is only 1/50 of inorganic flocculant, and its effect is several times better than
the inorganic flocculant. For some rivers with serious pollution due to organic matter, it is well
recommended that the inorganic flocculant is used together with the cationic polyacrylamide
(DFH-H-4 or DFH-H-5) made in our company.
3.The Recovery of the Starch Loss And Grain Stillage From A Starch Plant and AN Alcohol
PlantIf the DFH-H-2 is added into the waste water from the starch plant, the starch grains will
be flocculated to sediment. Then this sediment is through the filter-pressing process by a
pressure filter, caked and used as feedstuff. The grain stillage from an alcohol pant can also
be dewatered by the DFH-H-4 and recovered through the filter-pressing process.


Please feel free to give your inquiry in the form below. We will reply you in 24 hours.